Traffic data for your web site is a veritable gold mine. The problem is accessing that data quickly, easily, and in an interface that just makes sense. The majority of analytics services fail in all regards.
Our Web Service IA-ANALYTICS is designed to be the easiest web analytics service you've ever used. Services like Google Analytics do everything except take out the trash, but you probably don't know what any of the data means. With IA-ANALYTICS, everything just makes sense.
Viewing History:
To view the history for any item, simply click on the trend percentage, as shown below. By default you will see the last 30 days of data for that item, but there is a date drop down menu right above the graph which lets you view the daily values for up to 180 days, or the weekly sums for 26 weeks (half a year), or the monthly sums for the last 12 months. Some data types also support hourly data.

Visitor segmentation
Segmentation is a fancy word for filtering. It means that instead of seeing data for all of your visitors combined, you can view just a specific "segment" of them.
Segmentation gives you priceless insight into your visitor's behavior, but the problem is that this feature is very difficult to use in most services. This is unfortunate, as this data is extremely valuable to any web site owner. Therefore, we set out to make segmentation as easy as possible.
Essentially every report you look at, each item's name will be a link. For example, here is the top countries report: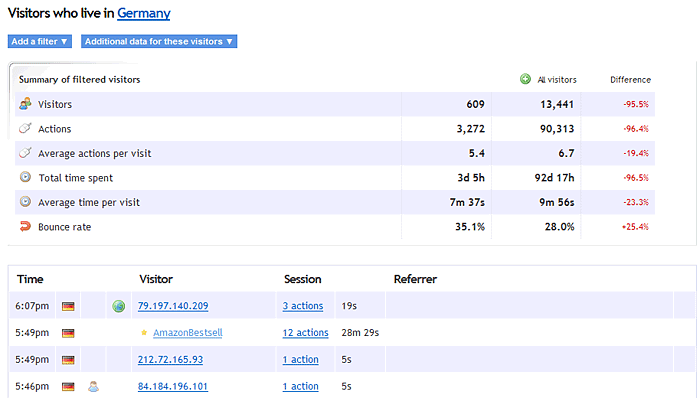 Twitter Analytics
A lot of people are talking about you and/or your web site. But do you know what they're saying? It's hard to keep track of it all. That's why we created the best Twitter Analytics service on the planet, and built it right into IA-ANALYTICS. You simply enter in keywords that you want to monitor on Twitter, we'll automatically do the rest for you, creating beautiful reports like the one below.
You can filter the individual tweets by all sort of criteria (e.g. ones containing links, one with questions, ones with a positive tone), and you can reply or retweet directly from IA-ANALYTICS.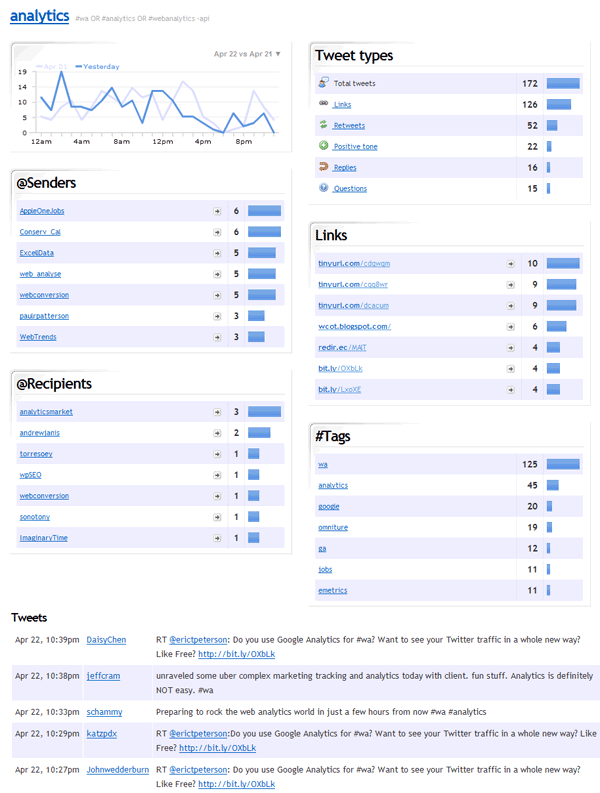 Here is a comparison of IA-ANALYTICS vs. Other Solutions:
 

IA-
ANALYTICS

·Google

·Woopra·

·Chart
Beat·

·Piwik·

·Stat
Counter·

·Site
Meter·

Detailed information about every visitor

Log custom data for every visitor (usernames, emails, etc)

Track outbound links

Track downloads

Track Javascript and Flash events

Video analytics

Mobile hardware reporting

Visitor hostnames and organizations

Detailed info on organizations (address, phone number, revenue, etc)

Twitter analytics - monitors and summarizes conversations about your web site or other topics of interest

Dedicated iPhone version

Dedicated version for other mobile devices

Create extra user accounts with

access to specific sites

Powerful filtering and segmentation

Developer API

The best bounce rate metric in the biz

Goals and conversions

Campaign tracking

Supports Google Analytics campaign tags

Customizable dashboard

bit.ly integration

Search keyword rankings

Favorites

Alerts

Available in multiple languages

Email reports

IP tags

IP filters

Real time data

Live view of every individual visitor on your site right now

Widgets to put on your web site

Get your stats via RSS feeds

Aggregate (multi-day) view for all data

Data export

Works with visitors who have disabled JavaScript

Official WordPress plugin for easy integration with your blog

FeedBurner RSS stats integration

Clean, modern interface

Public statistics